Learn Proper Handgun Safety and Techniques
Learn Safe Handgun Use for Self-Defense
Defensive Handgun is designed for the beginning level shooter that wants to expand on basic skills and fundamentals taught in prior entry level classes. This class is designed for students who are interested in the safe and effective use of a handgun for self-defense. Students will learn new skills while reinforce prior class lessons which are critical in a defensive situation.Students will also be exposed to using their firearms in controlled but stressful environments.
Topics covered and skills reinforced:
1. Basic Firearm Safety
2. Magazine Changes
3. Proper Sight Alignment
4. Grip
5. Trigger Control
6. Proper Stance
7. Firearms Selection
8. Threat Assessment
9. California law
10. Use of Lethal Force
11. Ammunition and Accessories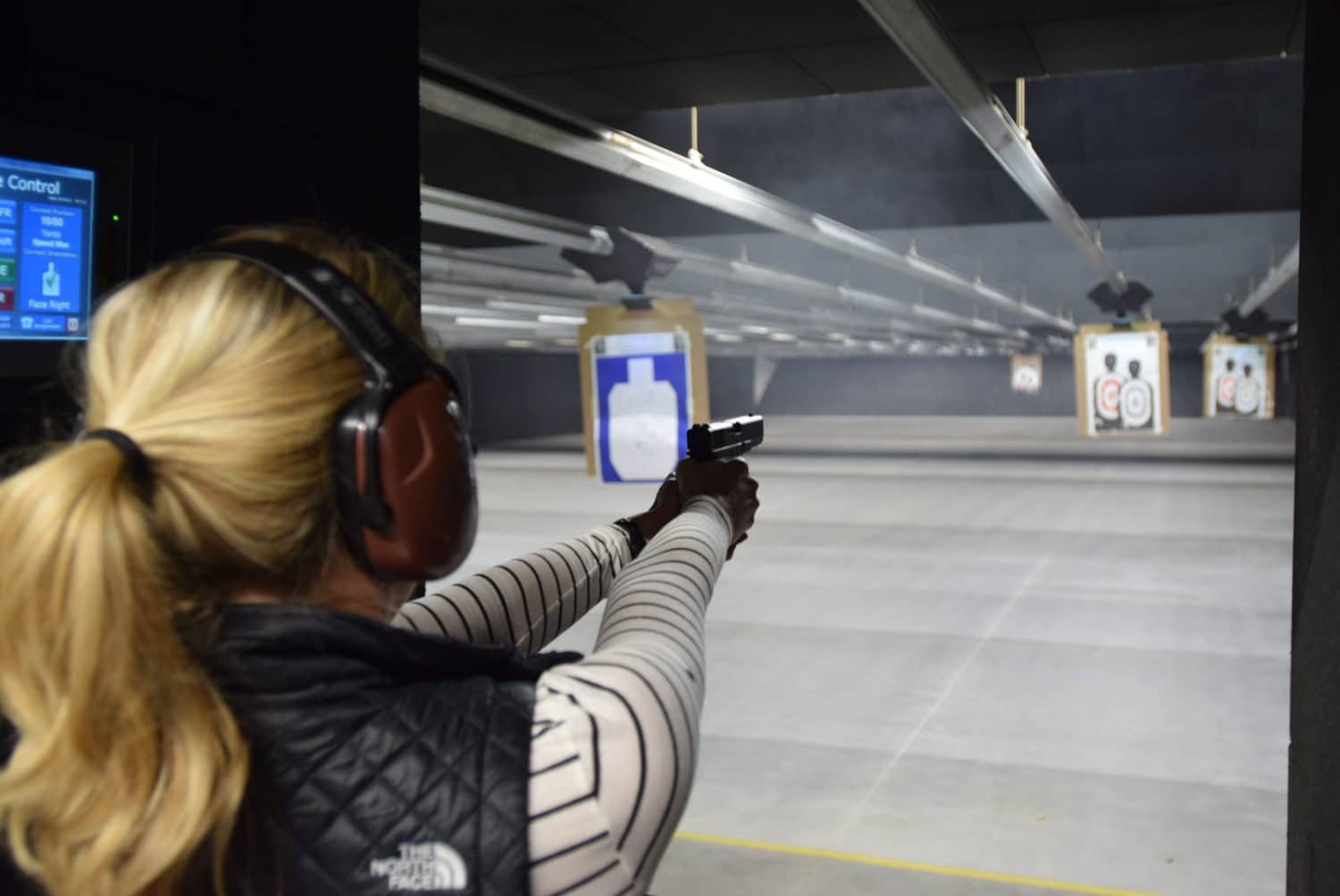 Class: Defensive Handgun
Cost: $145
Length: 3 Hours
Level: Intermediate
Prerequisites: Handgun First Steps, Handgun Next Steps (Applicants for this class should have a basic understanding of handgun safety and marksmanship. Applicants should be able to perform basic target shooting, as well demonstrate loading and reloading of magazines into the weapon.)
Required Gear: Personal Handgun or training Glocks,  Minimum of 2 Magazines (4 Magazines preferred), 200-300 Rounds of Ammunition Range Sensible clothing (Closed toe/ closed heal shoes. No high heels and no tank tops) All of the equipment needed for the class is available in our retail store. You can also purchase ammo from us on the day of your course.
Please bring your own eye and ear protection as we do not provide them at this time due to Covid-19. We apologize for the inconvenience.
Requirements: Minimum age of 18 and 41 inches tall, signed waiver (If you have not completed the online waiver Click Here to fill out the form)
– – – – – – – – – – – – – – – – –
Your Journey Shouldn't Stop Here. Continue Your Education with:
Personal Protection in the Home

AGE REQUIREMENTS
Under the age of 21 Parent or Guardian and personal firearm are required. Minimum age of 18 and 41 inches tall with Parent or Guardian (Age 25 or older), Age 16 or older can take the course unaccompanied. (Parent or guardian must be onsite, guardian or parental waiver signed, but they do not need to be in the same course or on the same range.) Minimum age is 14 if taking the course with a parent or guardian. The parent MUST have taken this exact course before, work with the child during the entire course, and be responsible for only one child.
CANCELLATION POLICY
PWG Range reserves the right to cancel any event. In the event of cancellation by PWG, participants will have the option of being move to the next scheduled event or receive a full refund of registration fee. Poway Weapons and Gear Range is not responsible for any other expenses or possible damages incurred.
Registration Cancellation by Participant:
Cancellations must be received five business days prior to the training event in order to qualify for a refund.
Cancellations received five business days or more in advance of the scheduled class will received a full refund.
Cancellation of class reservation less than five business days before the scheduled and prior to the start of the class will result in store credit or scheduling into a future class.
Students are eligible to reschedule to another class until the beginning of the class they are scheduled to attend.
Failure to attend the class (no-show), without making prior arrangements with training staff, will result in forfeiting the entire registration fee.
We understand unforeseen circumstances can affect attendance. Each circumstance will be evaluated on a case by case basis.
These above policies apply to all Poway Weapons and Gear Training Events unless otherwise noted in the corresponding training materials.