Make A Difference in Someone's Life

Do you know how to stop the bleed? How to apply a tourniquet properly? How to take a few simple first steps to significantly increase the likelihood of you, a family member, or a friend surviving a major trauma? PWG wants you to be able to make a difference in someone's life. When you finish "Stop the Bleed", you will know how to respond to a traumatic event and to help save a life. In this hour and a half course, our experienced instructors will prepare you how to recognize the severity of a major trauma situation, how to act quickly by stopping the bleeding until advanced medical treatment can be provided, and how to communicate effectively with First Responders to save someone else's life. When it comes to saving a life of a family member, friend or even a stranger on the street, every second counts and Stop the Bleed will ensure you are ready and capable to do your part to help others.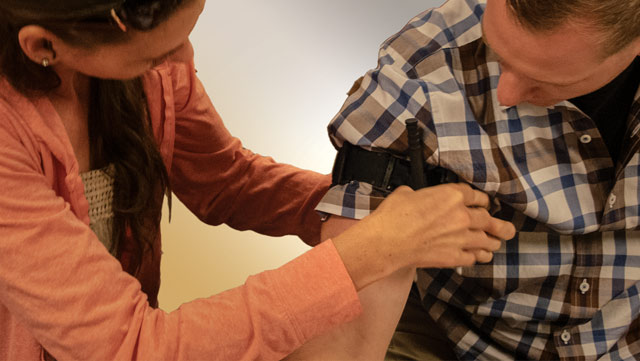 Class: Stop the Bleed

Cost: $45
Length: 1 Hour 30 Minutes
Level: Beginner
Prerequisites: None
Required Gear: Comfortable clothes, closed heel, closed toe shoes
Requirements: Minimum age of 14 with Parent or Guardian (Age 25 or older), 41 inches tall, signed waiver (If you have not completed the online waiver Click Here to fill out the form)
– – – – – – – – – – – – – – – – –
Your Journey Shouldn't Stop Here. Continue Your Education with:
Families with Firearms
Defensive Handgun
Handgun First Steps
Shotgun First Steps
Carbine First Steps
AGE REQUIREMENTS
Under the age of 21 Parent or Guardian and personal firearm are required. Minimum age of 18 and 41 inches tall with Parent or Guardian (Age 25 or older), Age 16 or older can take the course unaccompanied. (Parent or guardian must be onsite, guardian or parental waiver signed, but they do not need to be in the same course or on the same range.) Minimum age is 14 if taking the course with a parent or guardian. The parent MUST have taken this exact course before, work with the child during the entire course, and be responsible for only one child.
CANCELLATION POLICY
PWG Range reserves the right to cancel any event. In the event of cancellation by PWG, participants will have the option of being move to the next scheduled event or receive a full refund of registration fee. Poway Weapons and Gear Range is not responsible for any other expenses or possible damages incurred.
Registration Cancellation by Participant:
Cancellations must be received five business days prior to the training event in order to qualify for a refund.
Cancellations received five business days or more in advance of the scheduled class will received a full refund.
Cancellation of class reservation less than five business days before the scheduled and prior to the start of the class will result in store credit or scheduling into a future class.
Students are eligible to reschedule to another class until the beginning of the class they are scheduled to attend.
Failure to attend the class (no-show), without making prior arrangements with training staff, will result in forfeiting the entire registration fee.
We understand unforeseen circumstances can affect attendance. Each circumstance will be evaluated on a case by case basis.
These above policies apply to all Poway Weapons and Gear Training Events unless otherwise noted in the corresponding training materials.